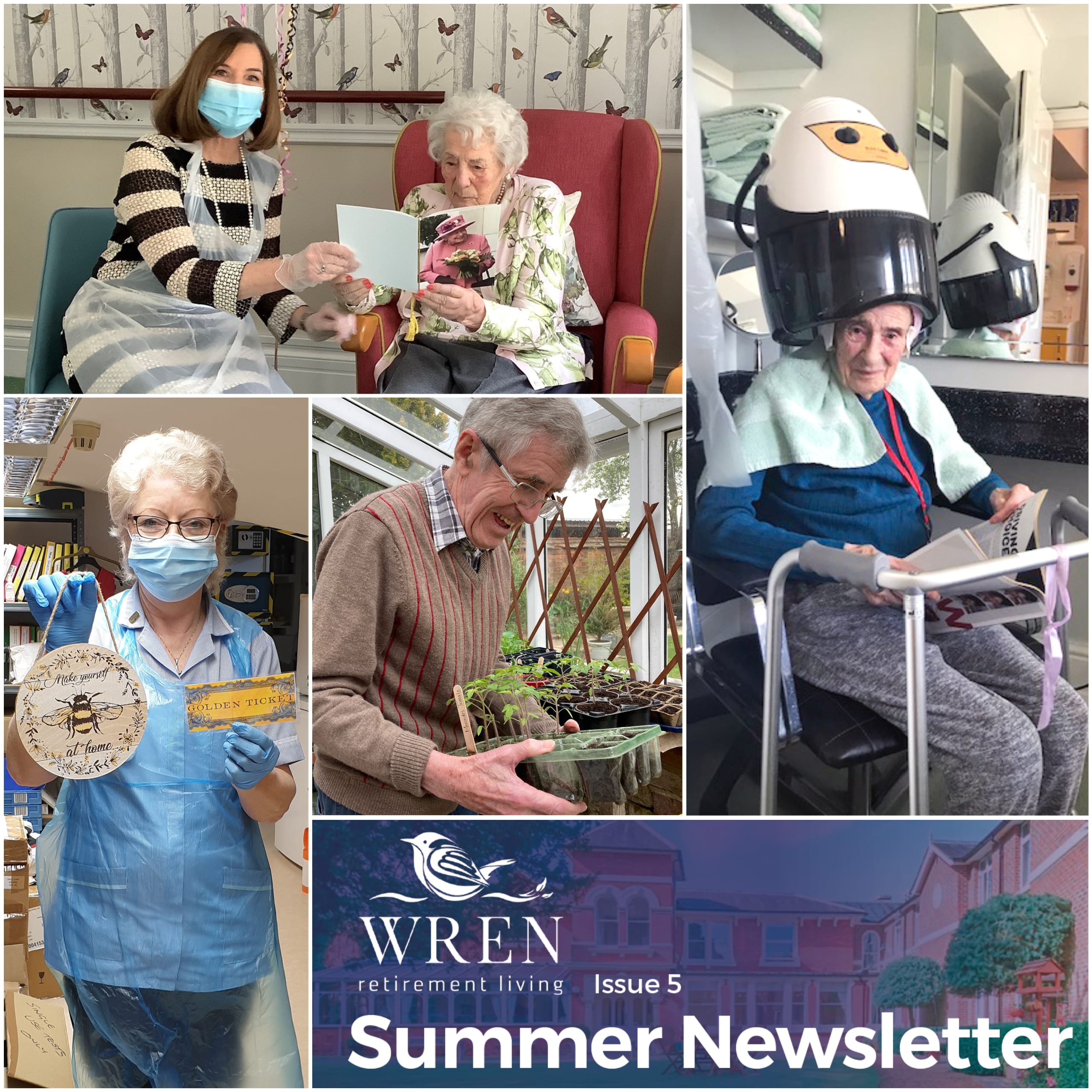 Wren Retirement Living Newsletter – Summer 2021
Summer is here, our care homes' gardens are blooming with colour and our residents are showing off their new hairdos in the latest edition of the Wren Retirement Living Newsletter!
Thanks to further easing of government guidance around visiting restrictions, our residents may now nominate up to 5 designated people to visit them inside our care homes (a maximum of 2 at any one time). In addition, professional hairdressers have returned to our in-home salons. This has made for a very promising start to summer 2021 and Wren Retirement Living Care Homes across the country have been making the most of it.
Beautiful Spaces for Sunny Days
The recent sunny weather has been the perfect opportunity for our homes to show off their beautiful outdoor spaces. All Wren Retirement Living Care Homes are blessed with their own beautiful outdoor sanctuaries. Each of these is the perfect spot to relax in the shade on sunny days. Both Westerham Place in Sevenoaks and Featherton House in Oxfordshire have very active gardening clubs in the warmer months. This year, gardens at both homes have enjoyed a considerable makeover, led by the expert advice of their green-fingered residents. This has resulted in a newly planted dementia-friendly garden area at Westerham Place. While at Featherton House, an unloved greenhouse has been revived to nurture everything from vegetables for the home's kitchen to sunflowers for local school children. Click the download link below to read more! 
Back to the Salon
Also in this edition of the Wren Retirement Living Newsletter, you will read of our residents' joy when they were reunited with their professional hairdressers. Even though our teams have done a sterling job of pampering our residents in our in-home beauty salons, nothing quite matches the professional touch. In the pages of our newsletter, you'll get to read some of our residents' heartwarming reactions to their new 'dos!
Appreciation for our Care Teams
We are now over a year into the pandemic and our care teams across the country continue to go above and beyond every single day. It has been wonderful to see the continued kindness of our local communities towards the staff at our care homes. In the Wren Retirement Living Summer Newsletter, you'll discover how the kind actions of one student in Epsom has been delighting the team at Linden House each week. Also, at Wren House in Warminster, the home manager has found a creative way to surprise her staff with gifts.
You can download the summer edition of the Wren Retirement Living Newsletter by clicking here.
Searching for care? Find your nearest Wren Retirement Living Care Home by clicking here.